Dedicated to the manufacturing industry, LiveSource solves sourcing challenges unlike any other enterprise sourcing suite on the market, because our solution is designed for build-to-order parts. With LiveSource, you have the unique ability to configure both simple and complex cost breakdowns that are structured by commodities.
From requisition and e-sourcing, to project purchasing, cost breakdown analysis, award traceability and much more – LiveSource is the platform where sourcing and procurement professionals combine technology with their sourcing expertise. Easily centralize and integrate each step in your unique global sourcing strategy. Take the chaos out of your product launch process. Know what's coming.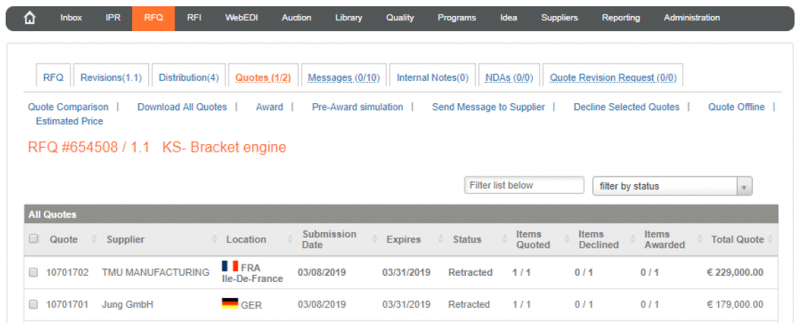 Maintain Cost Performance Through Competitive Supplier Bidding
Define sourcing objectives and requirements
Drive sourcing strategy and enforce policies
Market analysis
Stakeholder business review and decision process
Manage purchase requisitions with approval workflows
Discrete Supplier Network

Ensure up-to-date information based on company's criteria and status
Enforce sourcing policies based on current supplier status by commodity and region

Interdepartmental Collaboration

See engineering changes automatically reflected in the BOM
Get real-time visibility into supplier performance
Eliminate delays and bad sourcing decisions with supplier nomination approval workflow

Manage RFI, RFQ and Auctions

See configurable cost breakdown analysis by commodity
Get revision control with history tracking
Factor supplier management information and risk during bid analysis
Capture supplier innovation recommendations
Develop best practice negotiation strategy
Track price evolution based on engineering changes to the BOM
Track cost savings based on sourcing events by buyers, commodity, region, etc.

Global purchase office that enables RFQ in one region to be submitted by a different region to its suppliers
Oversee Contract Lifecycle Management
Take the chaos out of your product launch process.
Know what's coming with LiveSource.