LiveSource Trust and Security
LiveSource cloud offerings are designed with operational best practices and robust controls to deliver compliance that you can rely on. LiveSource partners with leading cloud service providers so that you can benefit from data centers and network architecture built to satisfy the most stringent industry standards and country-specific requirements. The following compliance standards and information attests to the security and dependability of LiveSource's named cloud services offerings.
LiveSource Cloud Services Status
LiveSource has an array of cloud services and sites that can be monitored by users around the world at any time. The LiveSource Cloud Services Status Dashboard lists available services and their current status. This capability allows users to check for service availability prior to contacting technical support.
ISO 27001
LiveSource Managed Services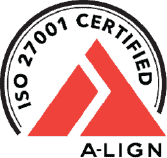 EU General Data Protection Regulation
The General Data Protection Regulation (GDPR) is a comprehensive data protection law that regulates the use of personal data of EU residents and provides individuals rights to exercise control over their data. We are committed to our customers' success, including supporting them on their GDPR compliance journeys.

Take the chaos out of your product launch process.
Know what's coming with LiveSource.